Hi all, today I'm here to do some quick update. A very random post to let u all know what i'm doing when all these missing time. All are taken by my baby note II. =)
Went to The Beer Factory with unimates to celebrate halloween and we got the free Jellybird.
It actually taste quite yummy and I like it. =)
Yes, I got my first business card and it clearly stated I'm a nutritionist. Yes, I am. =)
Try out the fish bone braid, and it is actually pretty easy though. Maybe will do a tutorial when I'm free.
Don't dare to promise any because I have quite packed schedule recently.
Decided to grab a cup of coffee and saw the annual diary Starbucks giving out.
I'm gonna grab it soon. Believe me, very soon. =)
Oh ya, christmas is coming soon.
Gonna buy present because I'm having present exchange with my colleague.
When to try out Fish & co at Paradigm Mall. Not bad though.
At least better than Manhattan Fish Market. Me not likey oily fish.
Got this surprise from a lovely unimates because she can't make it to my graduation so she buy a my favourate macaroon. So far I like the blueberry flavor the most. =DD
I'm officially graduated. Glad to have papa and mama beside me all the while and of course the lovely and helpful Sunnyboy. I'm a big big girl now. No more financial support from papa.
Thanks Sunnyboy for the surprise present. He is so sweet, he actually lied to me and went to buy me a Tiffany & co necklace. Love u!!
I meet Myfm's Royce at Eun Yan Sang's event @ Midvalley last week.
He is so nice and friendly, and ahem, abit gayish but cute. =D
And came back from the event found out my baby car dented. I pretty sure this is not cause my accident.
Most probably is those uneducated and irresponsible people hit my car when it is parked there.Sigh...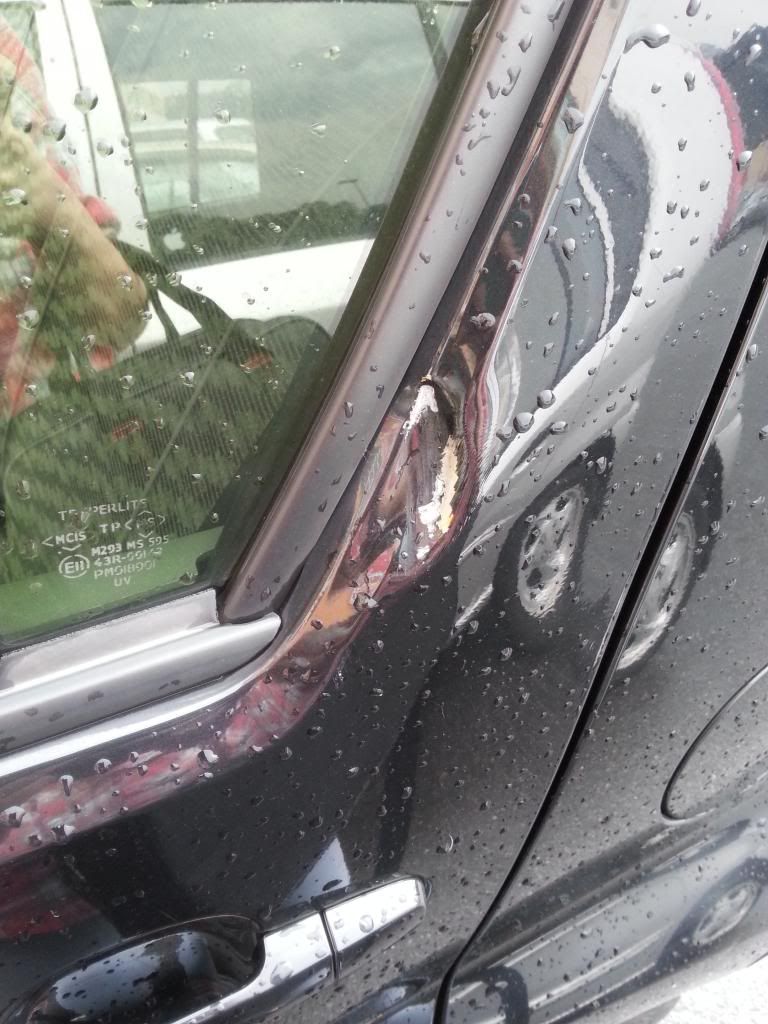 Had formal outfit for that day because I'm going to have meeting with my client at Fahrenheit 88.
Hair colour after the 5th washed, still a little bit purplish at the bottom.
Pretty satisfied with the persistence of the colour.
Sudden crave for Haagen Dazs so drag Sunnyboy along to solve my crave. Yum.. Yum..
Christmas feel outfit:
Fluffy white top got from online, super short torn denim and christmas feel flats got from Johor
Went to Breaking Dawn that night with Sunnyboy and was pretty sad after the whole movie finished.
I'm gonna say bye bye to twilight, thanks for accompanying me for 5 years.
Still remember 5 years ago, I got the whole series of twilight saga novel at Sabah and I actually hand carried the whole series back to Penang, it takes 3 years to finish the 4 books because I was so busy with uni study. I follow every single episode of the movie by dragging Sunnyboy along even he doesn't like lovely dovey movie. Still memorable and lovely! Thanks twilight thanks Stephenie Meyer!!
Chicky smile of friend's daughter.
Last but not least, stay chick and pretty.
Smile to every single day, believe it will make things different.
Ciao...